BIKEPACKING WITH SONIA COLOMO
BIKEPACKING WITH
SONIA COLOMO
The Tour du Lord route with
Megamo Factory AXS 01
6/21 BIKEPACKING MEGAMO FACTORY AXS 01
BIKEPACKING WEEKEND

The alarm goes off, it's 6 am in the morning and all you can hear is the birds chirping in the background with the first light of the day. Not many hours of sleep, a hard week of work, but it's Saturday and I know I have a great weekend of mountain bike ahead.

I make the breakfast, get dressed and prepare all the packs for a two-day bikepacking adventure in the Lord Valley.
I had checked the route during the week, and I thought about what would be the best setup to do it. I knew it would be a route with lots of climbing, hike-a-bike sections, and some technical trails.

The weather forecast was good during the morning, but rain showers were expected in the afternoon. I had to be prepared for varying temperatures, not many places to get water or food, and a terrain that would be hard and beautiful in equal measure.

So I decided to take with me the Megamo Factory AXS 01, some of my Backcountry Apidura packs, and a small backpack.
MEGAMO FACTORY AXS 01

A hardtail is always a good choice for this type of route. It's less heavy than a full suspension bike and you can fit more packs in the frame.

It's a comfortable and versatile bike. I use a 12º backsweep and 15mm rise handlebar to make the riding position a bit more relaxed, making this bike just perfect for long mountain bike rides.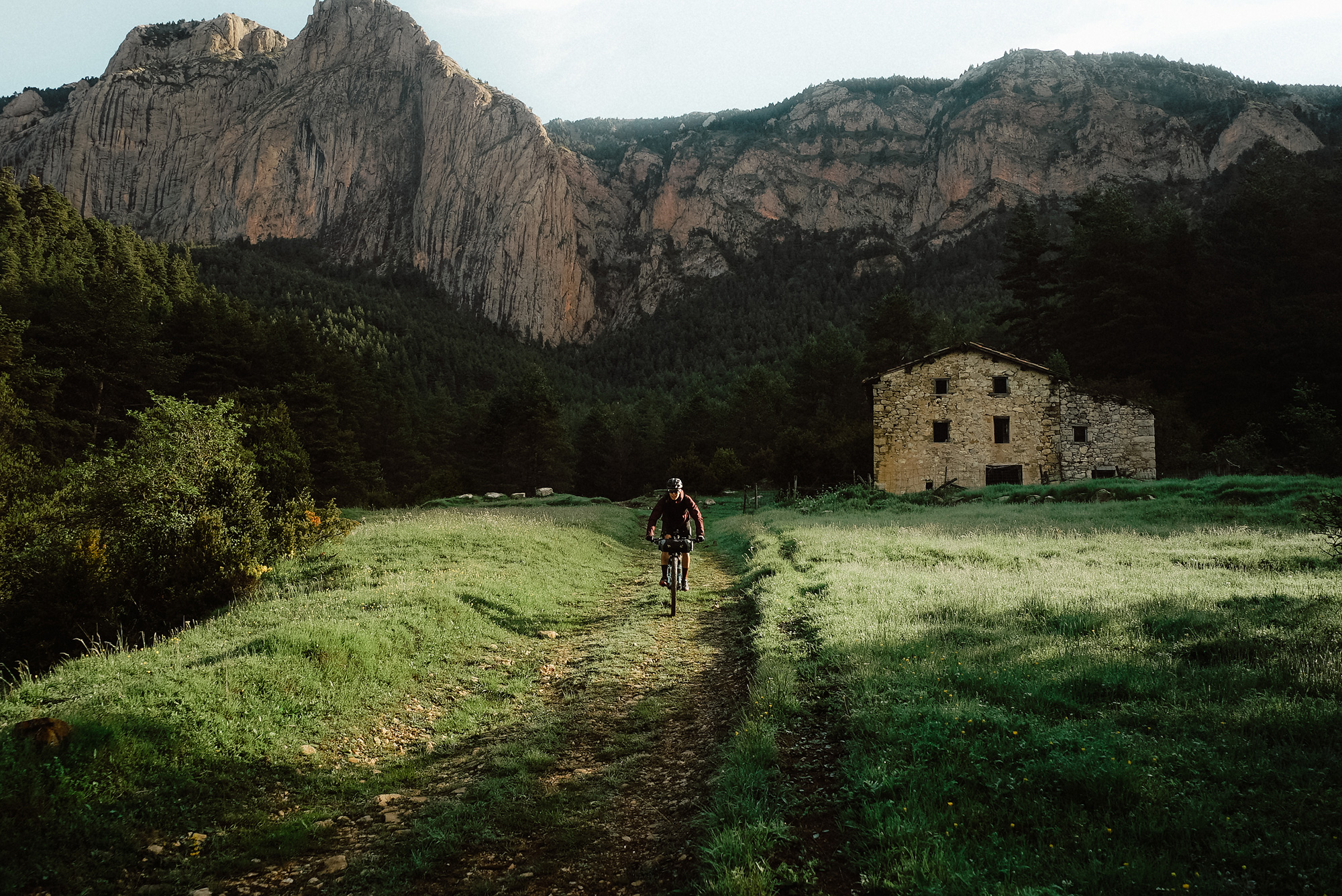 ESSENTIAL EQUIPMENT
When you have to decide what to take in your packs and where to put them, you need to think about what you are most likely to need during the route and afterwards. In my case, during the route, I would only need to have easy access to food, water and a rain jacket, so I organized the packs as it follows:

- In the saddle pack I put the clothes needed to sleep: a long legging, a shirt and a pair of socks. I also put a small down jacket, a long jersey and a rain jacket.

- In the frame pack I had mainly food for the two days, a pair of arm warmers and long gloves.

- In the top tube pack, I had all the electronics such as cables, external battery, Gopro batteries, headlight and earphones, a packet of tissues and my toothbrush.

- In the handlebar pack, I had the sleeping bag and the inflatable matt.

- In the backpack, the most important thing: 2L of water and more food.
THE ADVENTURE BEGINS
It's 8 am, the bells ring in the clock tower, it's time to start pedaling. A hike-a-bike section just to start, aerial views of the valley and a rocky trail that goes up and down; it looks like it will be a pure mountain bike route.

After some hours of pedaling climbs that leave you breathless, we arrive at a river crossing and nothing looks more appealing than putting your feet in the river, drink some fresh water and eat.

We can't stop for long; the weather is starting to change; we can hear the thunder far away and we still have a long climb ahead before getting to the place where we want to sleep. Will we arrive without getting wet? I don't think so.

The storm started when we were a few kilometers away from the Rasos de Peguera hut where we had dinner and slept while we listened to the rain falling.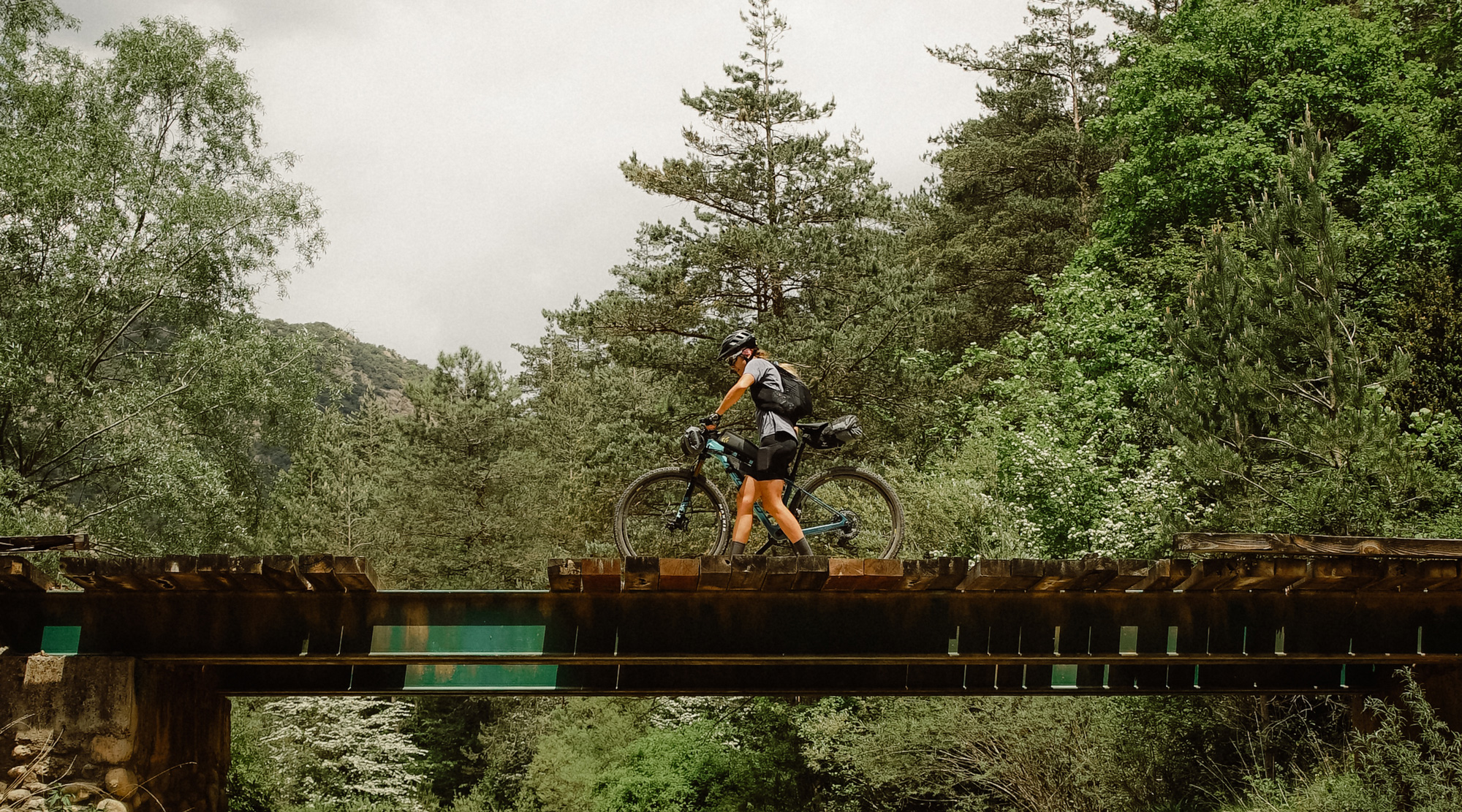 THE JOURNEY CONTINUES

It's Sunday, 6 am, I feel refreshed, happy and I can't wait to start riding again. My clothes are still a bit wet but it's not too bad. The weather forecast looks pretty bad, so the route has to be shortened a little bit. The Ferrús Rock loomed above us, the Pedraforca could be seen from every high pass, and the feeling of being surrounded by nature that fills you and makes you thrive, prevailed during the whole day.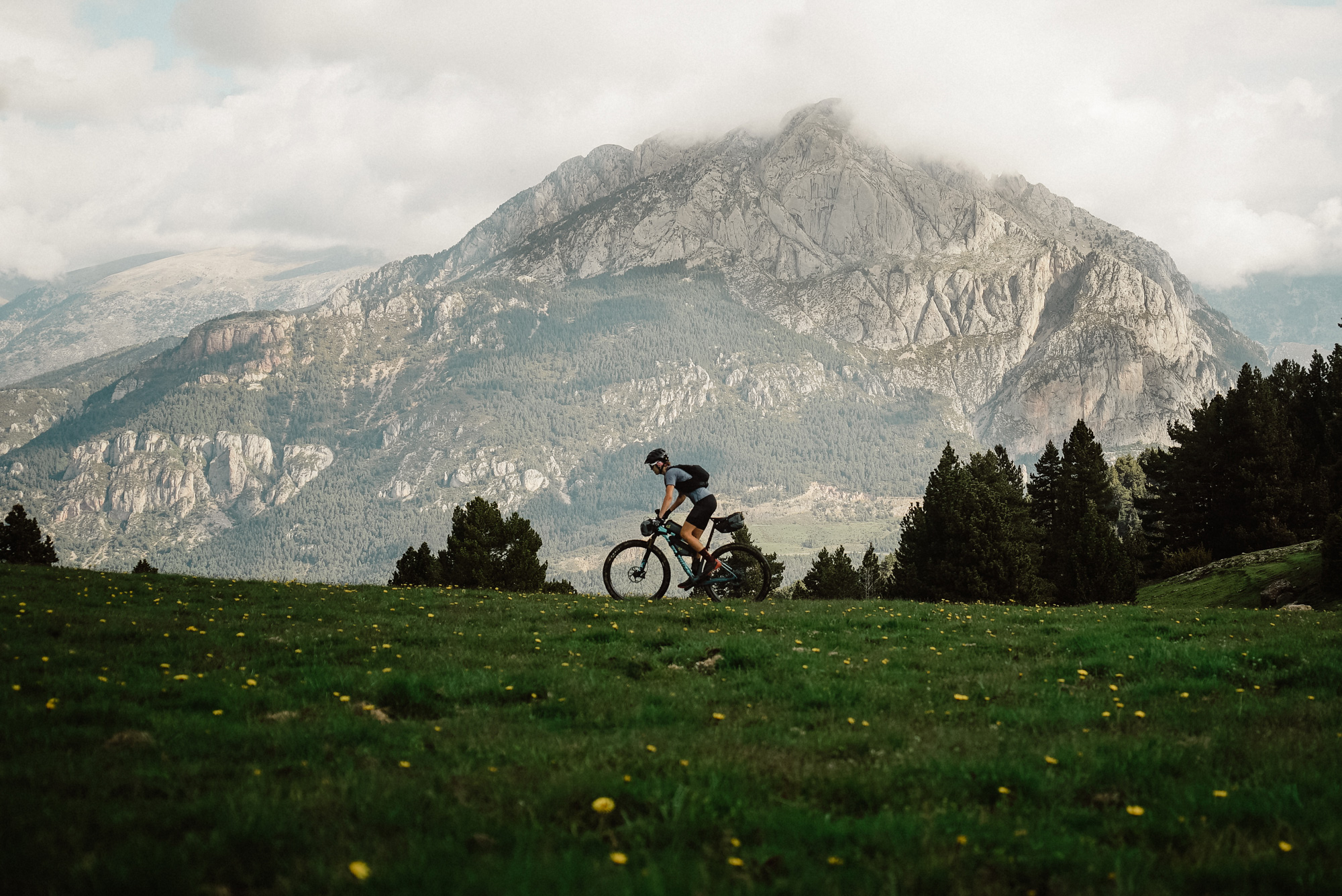 Text: Sonia Colomo
Photographer: David (Avisuals)
Bikepacking is a way to explore new places with the thrill of riding a bike. Although it does require a bit of planning, it's all about freedom, nature and self-reflection.